Checking
To report a lost or stolen debit card call 563-388-8328 or after business hours and weekends, 800-472-3272
Regular Checking
A no frills, day-to-day share draft account with no minimum opening deposit, no minimum balance requirements, unlimited check writing, no-per check charges and NO monthly fee. Check prices vary per style and are in duplicate form. Statements are received monthly.
Premium Checking
If you are one who tends to keep a high balance in your share draft account, then make the most of it. This is the same as our regular checking, but accounts that maintain the qualified balance of $2,500, automatically receive dividends monthly.
Golden Member Checking
Members 65 and with a $2,500 account relationship, receive one free Golden Member type checks per year, plus totally free checking. These free checks cannot be ordered online. Visit your local office to order this type of check.
Overdraft Protection
If you overdraft your account, this feature kicks in. Instead of getting charged a fee for bouncing a check, overdraft protection will provide you with an instant loan. If the 'loan' is paid off quickly it is usually much less expensive than the bounced check fee. Repayments amounts depend on the amount being transferred and will deduct automatically from your checking account.
Overdraft protection is a type of loan. You must apply for and be approved for a line of credit to use this service.
Overdraft Consent
Consent and important information regarding overdrafts and overdraft fees.
To Authorize and Pay Overdrafts on ATM and Everyday Debit Card Transactions, please call 563-388-8328
Learn More: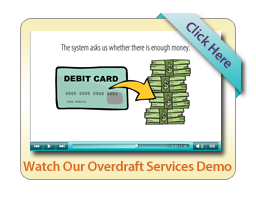 Visa Debit Card
For those who have a new or existing share draft account may qualify for our Visa Debit Card. Looks like a credit card, but works like a check. You must have an open checking account to have the debit card. There are no monthly fees to own a debit card and never a fee to use the card for a Visa signature purchase.
To report a lost or stolen debit card, call 563-388-8328 during business hours
Members must have a new or existing share draft account to qualify for this account. The VISA Debit Card looks like and is accepted like a credit card, but 'charges' are deducted from the member's share draft account instead of being billed to the member.
The VISA Debit Card can be used three different ways:
An ATM card
To make purchases when the card is swiped at a merchant terminal
Use the card number for pre-authorized monthly debits
For your protection, daily limits have been established. If you should come upon a situation that requires a temporary extension of the limits, please call a local office.
$500 daily ATM withdrawal
20 total uses per day between ATM and purchases
$1,000 signature base maximum
Youth beginning at age 14 can qualify for a debit card with an adult co-signer.
No more checks to write!
Verified by Visa protects your existing Visa card with a password you create, giving you assurance that only you can use your Visa card online. Simply activate your card and create your personal password. You'll get the added confidence that your Visa card is safe when you shop at participating online stores. Click on the symbol to enroll for this free service.
This credit union is federally insured by the National Credit Union Administration