Your Identity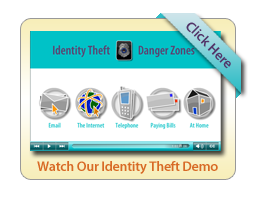 Credit Union Products that Help Protect Your Identity
Your secure identity is a priority at Family CU. We provide you with a variety of products and services that can help keep your identity yours.
Direct Deposit eliminates "live" checks, no need to mail deposits, secure, faster availability of funds.
Electronic statement delivery eliminates the potential for mail theft, fast and convenient.
Bill payment eliminates the potential for mail theft, saves on postage, you may pay any merchant, easy integration with personal finance packages like Money or Quicken.
Home banking saves fuel by eliminating branch visits and possible vulnerability by banking by mail.
Free Annual Credit Report
The FACT Act allows all consumers the right to obtain one free credit report from each of the three credit reporting agencies once a year.
This means you can obtain a free copy of your credit report every four months, if you keep track of which credit bureau you select. For example, select Experian in January, Equifax in May, and Trans Union in October. You can repeat this pattern each year.
Visit www.AnnualCreditReport.com to obtain your free annual credit report.
Security Tips
At home keep personal information safe, especially if you have roommates or are having any work done in your home. Don't keep Personal Identification Numbers (PINs) near your checkbook, ATM card, or debit card.
Shred any papers with confidential information before you throw them out- even the junk mail. Anything with an account number can be used in identity theft. This includes prescreened credit card offers, receipts, canceled checks, credit union statements, expired charge cards, doctor bills, and insurance documents.
Don't give out any confidential information such as your credit card number, social security number, or PIN number unless you initiated the contact with a business. Be careful of unexpected emails that look as if they are from a legitimate company asking you to enter some information at a linked website; sometimes phony websites can look real.
Check your credit union and credit card statements regularly to make sure there is no unexplained activity.
Consider canceling credit cards you haven't used in a long time.
Keep track of when your bills usually arrive. If a bill does not arrive on time, call the company to make sure no changes have been made to your account. Often, identity thieves will change the address of a bill so that it will take you longer to figure out the scam.
Carefully check your credit reports regularly. Your credit reports are important tools for limiting the amount of damage a thief can cause.
When choosing a Personal Identification Number (PIN) for your ATM or for other purposes, use one that is hard to guess. Avoid the last four digits of your social security number, your mother's maiden name, birth dates, names of pets, or even the name of your hometown baseball team. Try to mix numbers, letters and symbols.
Make it harder for thieves to use your accounts. Put passwords on credit card, credit union, and phone accounts. Get credit cards with your picture on them. Call the companies that issue the accounts and find out what security options they offer.
Use only secure sites when making online purchases. Secure pages begin with "https."
Don't print your social security number on your checks.
Be suspicious of any email or phone calls with urgent request for personal financial information. Never give out financial information such as checking and credit card numbers, or your Social Security number, unless you know the person or organization you're dealing with, even someone claiming to be from your credit union or bank. Your financial institution will never call and ask for this type of information.
Notify your credit union of suspicious phone inquiries such as those asking for account information to "verify a statement" or "award a prize".
Don't use the links in an email to get to any web page and do not reply to the email.
Report lost or stolen checks immediately. Always review new deliveries of checks to make sure none were stolen in transit.
Closely guard your Personal Identification Numbers for your credit and debit cards and online banking access. Check your monthly statements to verify all transactions.
Notify your credit union, bank or credit card issuer immediately if you discover any erroneous or suspicious transactions on your statements.
For information on the latest identity theft scams and more information on identity theft, check out these websites:
Helpful Links
Equifax
PO Box 740241
Atlanta, GA 30374
www.Equifax.com
Report Fraud: 800-525-6285
Order a Credit Report: 800-685-1111
Experian
PO Box 2002
Allen, TX 75013
www.experian.com
Report Fraud and Order a Credit Report: 888-EXPERIAN or 888-397-3742
TransUnion
PO Box 1000
Chester, PA 19022
www.transunion.com
Report Fraud: 800-680-7289
Order Credit Report: 800-916-8800
Federal Trade Commission
Identity Theft Clearinghouse
600 Pennsylvania Ave, NW
Washington, DC 20580
www.consumer.gov/idtheft
Report Fraud: 877- ID THEFT (438-4338)
Social Security Administration
PO Box 17768
Baltimore, MD 21235
www.ssa.gov
Social Security Fraud Hot Line: 800-269-0271
US Postal Inspection Service
475 L'Enfant Plaza SW
Washington, DC 20260
www.usps.gov/postalinspectors
Social Security Fraud Hot Line: 800-372-8347
Identity Theft Resource Center
PO Box 26833
San Diego, CA 92196
www.idtheftcenter.org
858-693-7935
Privacy Rights Clearinghouse
3100 5th Ave, Suite B
San Diego, CA 92103
www.privacyrights.org
619-298-3396
Direct Marketing Association
Direct Marketing Association, Inc.
1615 L Street
Washington, DC 20036
https://www.dmachoice.org/index.php
*The credit union is not necessarily endorsing the contents of these sites. The linked third party websites may provide less security than your credit union's website.